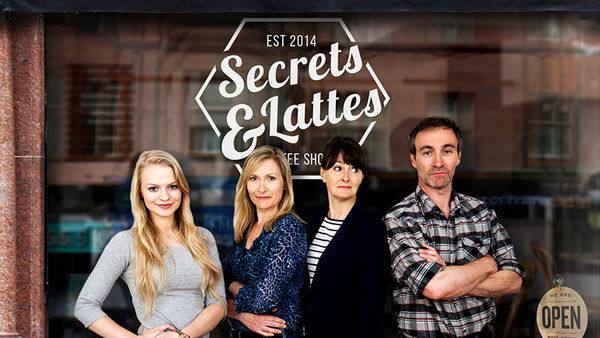 Hilary Lyon's comedy narrative series "Secrets and Lattes", set in Edinburgh's most entertaining coffee shop, is back in business  on Thursday evenings at 11pm on BBC Radio 4.
First aired in 2015 the series, Starring Hilary Maclean, Hilary Lyon, Derek Riddell and Pearl Appleby, starts on Thursday 4th October at 11pm.
Ex-art teacher and free spirit, Trisha, has settled into her native Edinburgh after years of London life and continues to run 'Cafe Culture' in leafy Bruntsfield with bossy ex-accountant big sister, Clare.  The distinctly different sisters continue to negotiate their way through staffing changes, relationship turbulence and  menu variations with intermittent good humour, bad temper and alcohol.  Throw in recovering kleptomaniac Lizzie's candid comments and intriguing new chef Callum and you have a recipe for entertaining trauma.
Has Trisha really created a new life for herself or is she still hankering after the past?  Will Clare ever get on her feet again after being floored by nearly ex-husband Struan's departure?  Where did Lizzie really get that bike, those handbags and that bloody dog……and who actually gets off with who on a night out on a boat?
Life in the cafe is never dull; there's always  an everyday crisis or the odd epic drama.  Sibling tensions are never too far from the fore and relationships are tested all round as our cafe team copes with life's unexpected events and its inevitable trail of issues.  All that before they're even made a latte…..
Tune in on Thursdays at 11pm from 4th October for your next caffeine-fuelled hit…..
Listen online or catch up here