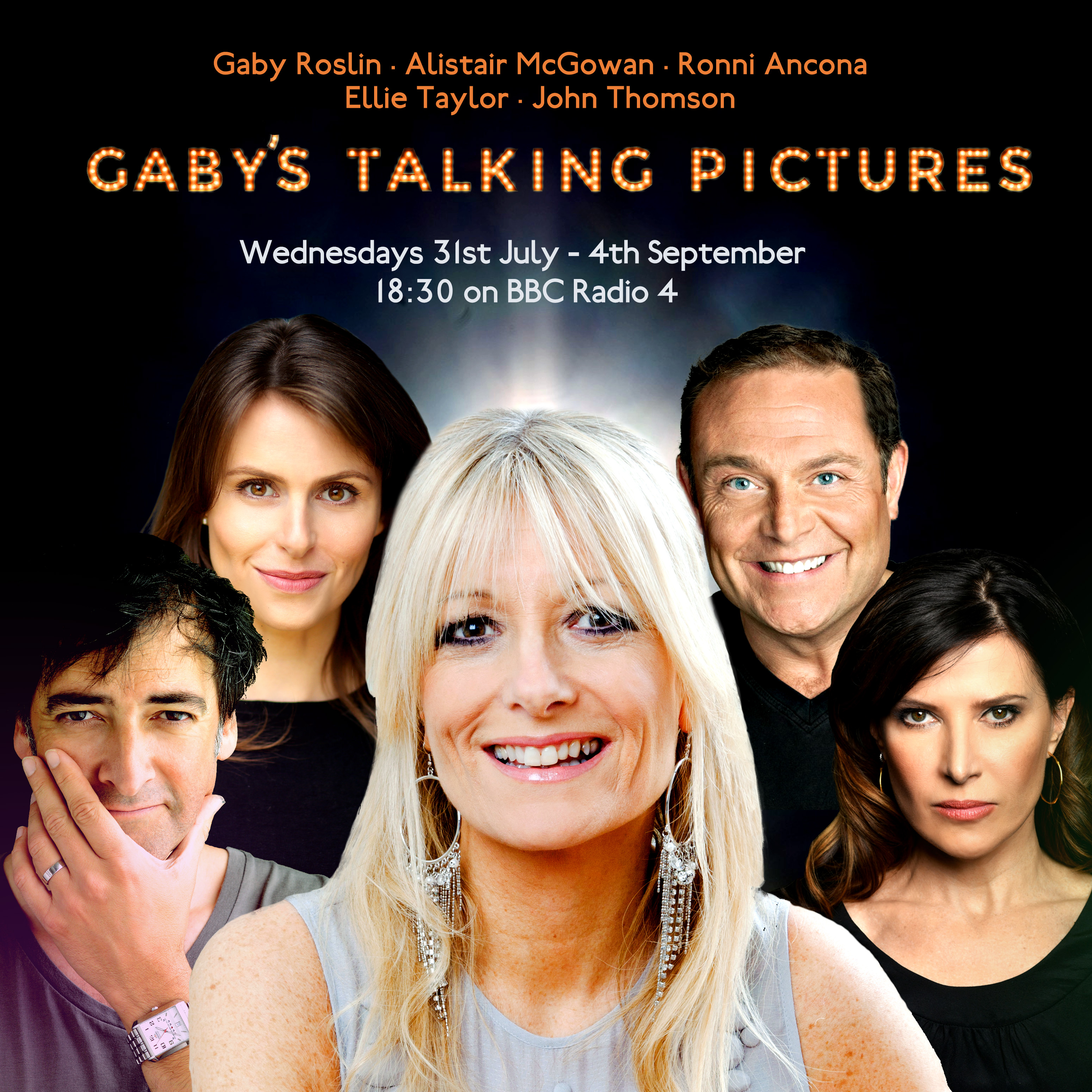 Gaby's Talking Pictures returns to
BBC Radio 4 this Autumn!
After a successful first series Gaby's Talking Pictures is back with six new episodes of the hilarious panel-based quiz all about film.
The critics say:
"The balance between comedy and quiz is perfectly balanced, like Have I Got News For You. This has legs." Radio Times
" A funny and clever new quiz show… filled with cinematic arcana." Sunday Times
Gaby Roslin brings radio's funniest movie quiz back to Radio 4 for 6×30 episodes. Packed with film trivia, brilliant impressions and comedy guests, it all begins on Wednesday 31st July at 6.30pm
Gaby is the host and she is joined each week by Alistair McGowan and Ronni Ancona, who showcase their incredible vocal talents by impersonating a new and eclectic mix of celebrities.
This show celebrates our love of film and takes comedy panel shows in a new and exciting direction.
The team captains are actor John Thomson and comedian Ellie Taylor and the guest panelists are drawn from the world of film, TV and comedy. The cast list includes Ben Bailey Smith, Lucy Porter, Anton Du Beck, Susan Calman, Samantha Spiro and many more.
In the first show Hugh Dennis and Amanda Redman join the teams as Gaby tests their movie knowledge to breaking point with a plethora of re–voiced iconic movie scenes narrated by some unlikely celebrities as re-imagined by Alistair and Ronni. Kevin Bishop, Fred Sirieix, David Attenborough Joanna Lumley and Olivia Coleman all crop up in the series, but what films are they starring in and who were the original stars?
This show will engage, intrigue and surprise the listeners. It is firmly rooted in mainstream cinema past and present, with films we all love and the stars we feel we know.
This show is for anyone who likes films.
 Listen online or catch up on BBC Sounds or on iPlayer Radio