Written by Suk Pannu
Starts Wednesday 4th October, 11:30am on BBC Radio 4.
Meera Syal stars as Mrs Sidhu, a caterer from Slough with a highly active imagination and her own Indian Aunty brand of crime solving, A.K.A. nosiness. She has made so many observations to the local police that they have file on her.
In the first series, 'Murder with Masala', she caters a wedding in rural Berkshire where the bridesmaid goes missing. She soon has a heap of clues that mean something to her, and nothing to anyone else.  She drafts in long suffering Inspector Burton (Justin Edwards) to confront gadget millionaire Lord Lucas and highly strung Lady Lucas (Rachel Atkins).
Meanwhile back in Slough, efficient new employee Lucy Lepinois (Amy Morgan) unsettles her her eternally useless son Tez (Hamza Jeetooa), and wily catering supplier Mr Varma (Vincent Ebrahim)  becomes a thorn in her side as her concern for the missing Bridesmaid grows.
Episode 1: Samosas, Secrets and Stately Homes
In the first episode, Mrs Sidhu leaves Slough for a posh wedding at Lapsley Hall where the bride appeals for her help in finding her missing maid of honour. Meanwhile her son Tez is angry when she employs a French sous chef.
Episode 2: The Peril of the Poisoned Puddle
In Episode Two of Mrs Sidhu Investigates – Murder with Masala. When Mrs Sidhu's evidence which gives Inspector Burton a panic attack, she is soon on the trail of Josh Lucas, the playboy heir to the Lucas title and fortune. Josh though has turned over a new leaf.
Meanwhile Inspector Burton, ever eager to impress the rich and famous, jumps at the chance when Lady Lucas offers her help in the search of the property. Mrs Sidhu is furious and suspects manipultion of both the evidence and the Inspector.
She goes it alone, and follows her nose, literally and finds that she has been betrayed.
Episode 3: Murder Corked
In Episode three, Mrs Sidhu is determined to put her humiliation in the stables behind her and win back Inspector Burton's trust. Her nose for trouble leads her to mysterious spanish butler Carlos. But is Carlos what he seems? And is he merely a servant to Lady Lucas, or is there more going on. Lord Lucas, meanwhile, holes up in his office and watches old adverts for nasal hair trimmers.
Mrs Sidhu's 'Miss Marple Complex' is questioned, and mishandled by Inspector Burton, while Tez has an unproffesional encounter with Lucy brought on by a shared interest in conspiracy theories.
Episode 4: She Sleeps with the Carp
In the fourth and concluding episode of Mrs SIdhu Investigates – Murder With Masala, the discovery of Briony's body proves Mrs Sidhu's point, but the not the way she intended. As her obsession deepens, Tez attempts an intervention. Meanwhile Lady Lucas' plunges forward with wedding plans.
Mrs Sidhu's determination to solve the case leads her to the mortuary, with unsettling results for Inspector Burton's breakfast. With the wedding closing in, Mrs Sidhu juggles her problems with Mr Varma, and solving the murder before the killer strikes again.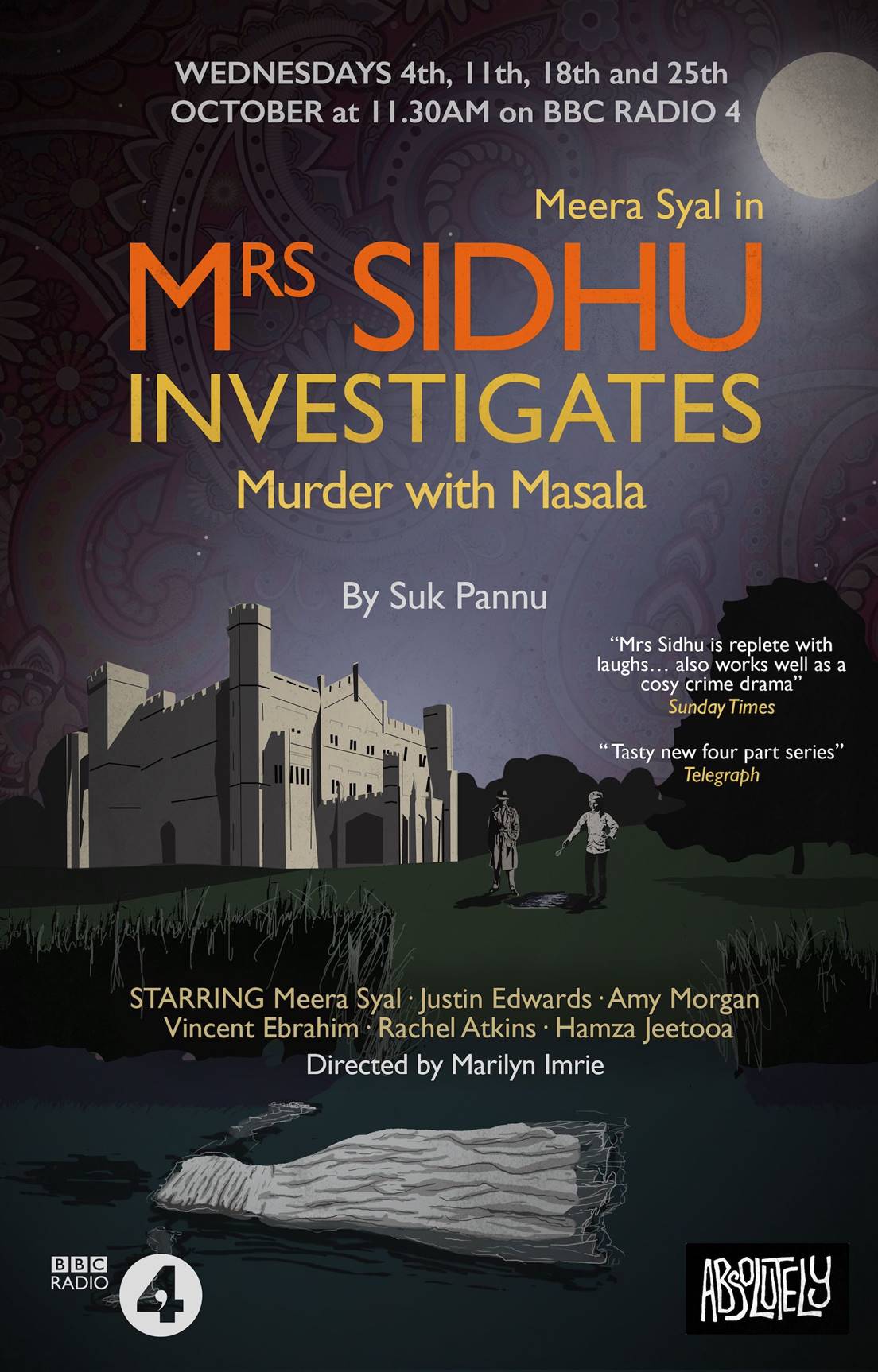 Full Cast and Crew
Cast
Mrs Sidhu – Meera Syal
Inspector Burton –  Justin Edwards
Mr Varma –  Vincent Ibrahim
Jemma Broghan – Amy Morgan
Tez  –  Hamza Jeetooa
Mrs Broghan – Rachel Atkins
Josh – Justin Edwards
Lord Lucas – Vincent Ibrahim
Lady Lucas –  Rachel Atkins
Briony Pickett – Amy Morgan
Sergeant  –  Hamza Jeetooa
Carlos –  Justin Edwards
Crew
Director – Marilyn Imrie
Writer – Suk Pannu
Editor – Leon Chambers
Studio Managers  – Phil Horne/Leon Chambers
Production Manager – Sarah Tombling
Photographer – Richard Bailey
Graphic Designer –  Sean Jones
Runner –  Saul Boyer
BBC Executive –  Sioned Wiliam
Executive Producer – Chris Pye
Producer – Gordon Kennedy
Facilities  – The Soundhouse Studios
Production Company – Absolutely Productions Ltd